यशवंतराव चव्हाण महाराष्ट्र मुक्त विद्यापीठ, नाशिक मान्यताप्राप्त M. Com Study
About Programme
Features of the Programme
The course is developed for the students willing to improve their professional and management expertise.
The students would work in the actual work situations to complete the programme. This academic programme is designed for both non-working and working students with time management and determination, the student can easily complete this programme while continuing his/her job, profession or other education
Well-Qualified counsellors at study centre will solve student's difficulties, during the counseling sessions.
Generally the study centre is situated nearer to student's place for his convenience. Activities at the study centres are organized specially on holidays.
Students will be continuously assessed throughout the year and will have to submit assignments as per schedule given by study centre.
The university will conduct the end examination at the end of each academic year.
Duration
A) Minimum duration of the programme is 2 academic years including the project work and maximum duration is 5 years.
B) If a student is unable to complete the programme or other requirements within 5 years he/she shall have to re-register as a new student. Such a person however shall be eligible to Course(s) exemption. Thus student would not be required to study the courses, which have been completed earlier.
Medium
The medium of instruction used in study materials, question Papers and other mode of communication is English
However, as per the convenience of the counsellor and students, counselling and discussion could be held in any other language(s), mostly in regional Languages.
The medium of examination will be English only.
Programme Structure
Programme Structure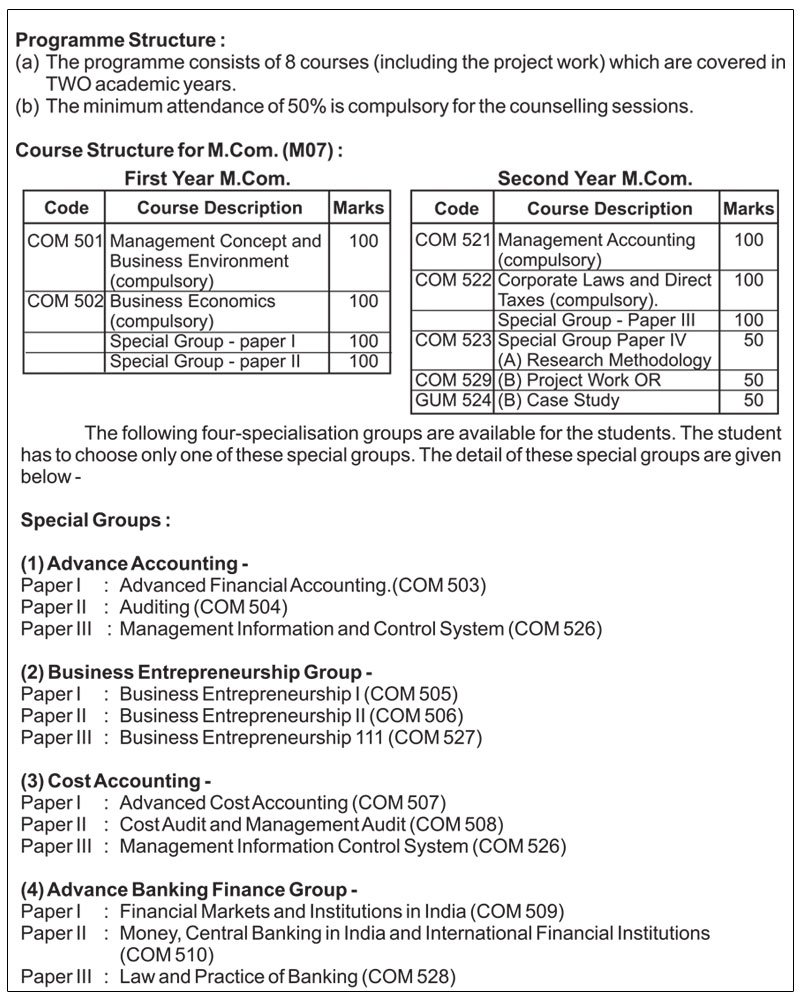 Admission Procedure
Eligibility
Admission to the M.Com. programme is open to all citizens of India who satisfy the following conditions
Bachelors Degree in Commerce.
In case a candidate has completed a course from a statutory board or University, which has, content similar to that offered in the courses in the programme, he/she might appeal to the Director of school of commerce for getting exemption to a course through a written application supported by necessary documents (syllabi of the courses completed by him/ her). The decision of the Director of the School will be final and binding on the student in this respect.
Programme Fee
The fee structure for M.Com. is as follows
M.Com. First Year Rs. 5,250/-
M.Com. Second Year : Rs. 6450/-